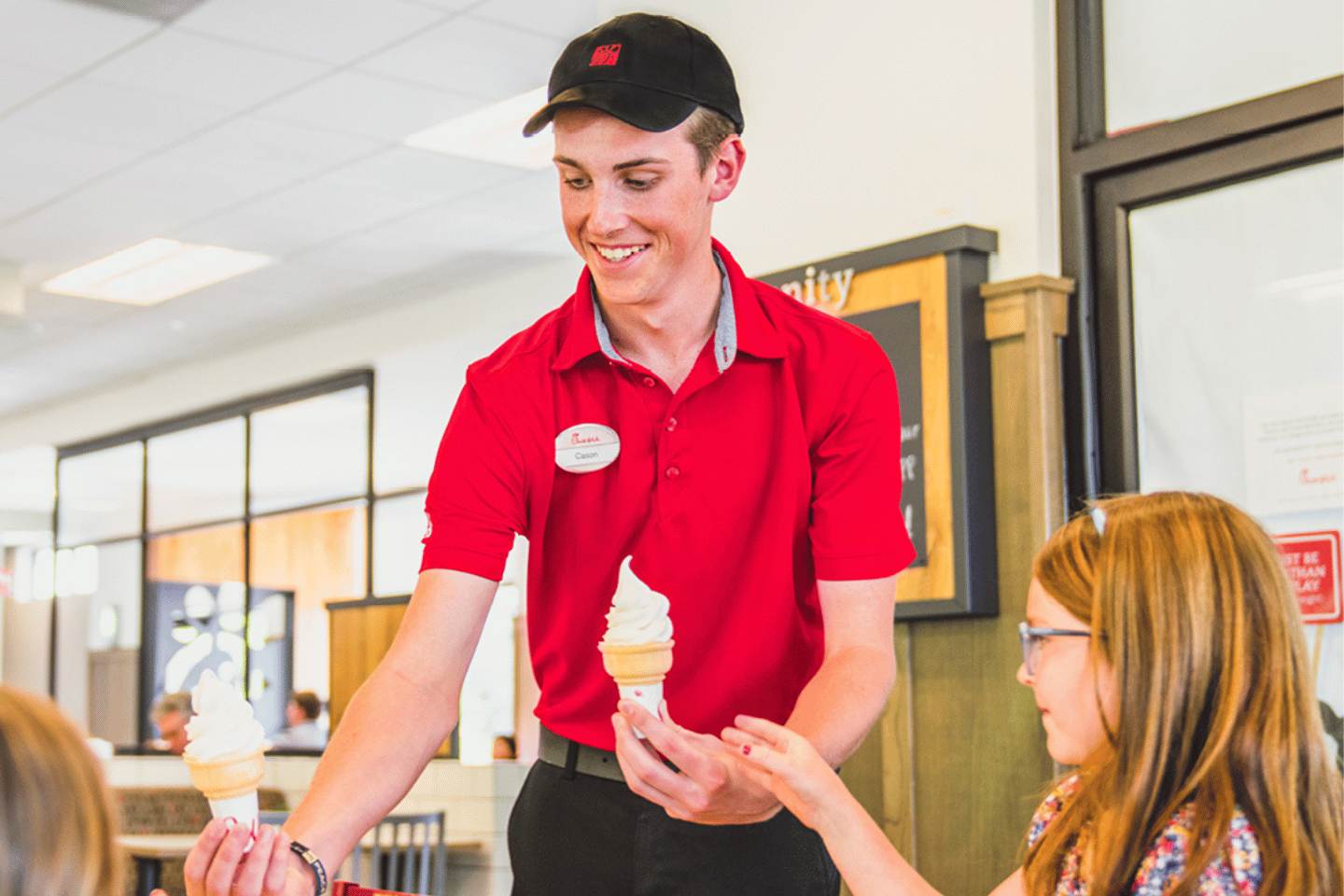 Here's what a visit to a Chick-fil-A restaurant is all about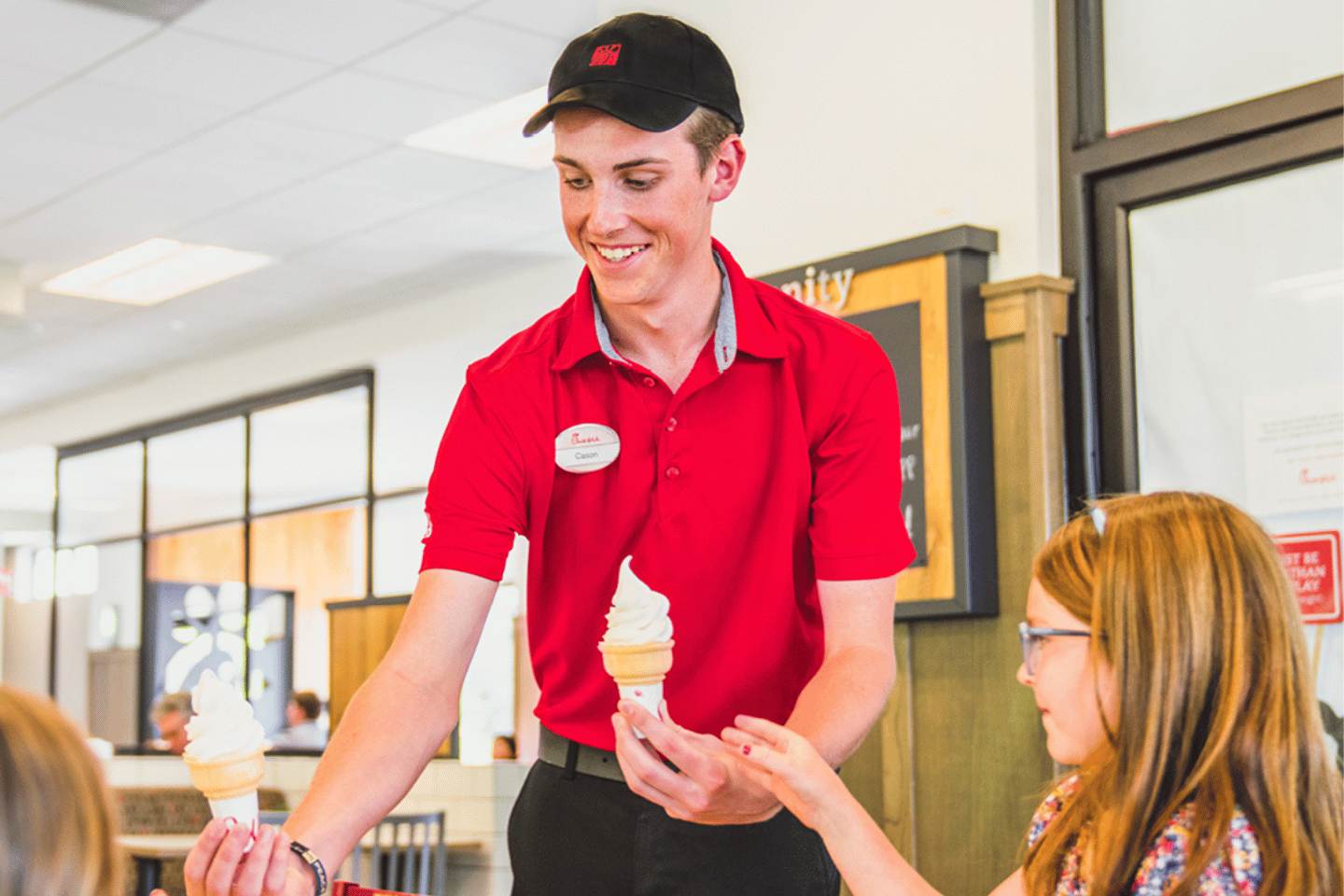 Wondering what to eat when you visit us?
Canada's first franchised Chick-fil-A® restaurant opened at Yonge & Bloor in Toronto in 2019, and since then we've enjoyed meeting new Guests and serving the community. It's one thing to hear about our food — freshly prepared, simply made — but it's another to actually taste it for yourself.
As our expansion continues, perhaps you're planning a visit to a Chick-fil-A restaurant near you. Whether it'll be your first or 100th visit, here is a taste of what to expect — and some ideas on what to enjoy from the menu.
The Chick-fil-A® Chicken Sandwich
Founded in 1967, it was the original Chick-fil-A® Chicken Sandwich that made us famous, so this is an excellent place to begin. Our name is a play on the "chicken fillet," and the capital "A" is on purpose: it represents the "grade A" top quality chicken used in our now-famous sandwich.
It's a simple pleasure: a breaded, boneless chicken breast on a toasted bun with two perfectly placed dill pickle chips. The sandwich itself is simple, but there's really so much more that goes into it.
The secret to our signature sandwich is the care we put into each and every one. We start by taking a chicken breast — and dipping it in a milk-and-egg wash.
Then we bread it by hand and pressure-cook the chicken in fully refined peanut oil for a juicy flavour before placing it in a toasted bun.
Chick-fil-A® Nuggets
Maybe you're more of a nugget person. Our Chick-fil-A Nuggets are bite-sized pieces of our boneless chicken breast, seasoned to perfection. They're available breaded or grilled – both options are delicious.
Spicing Things Up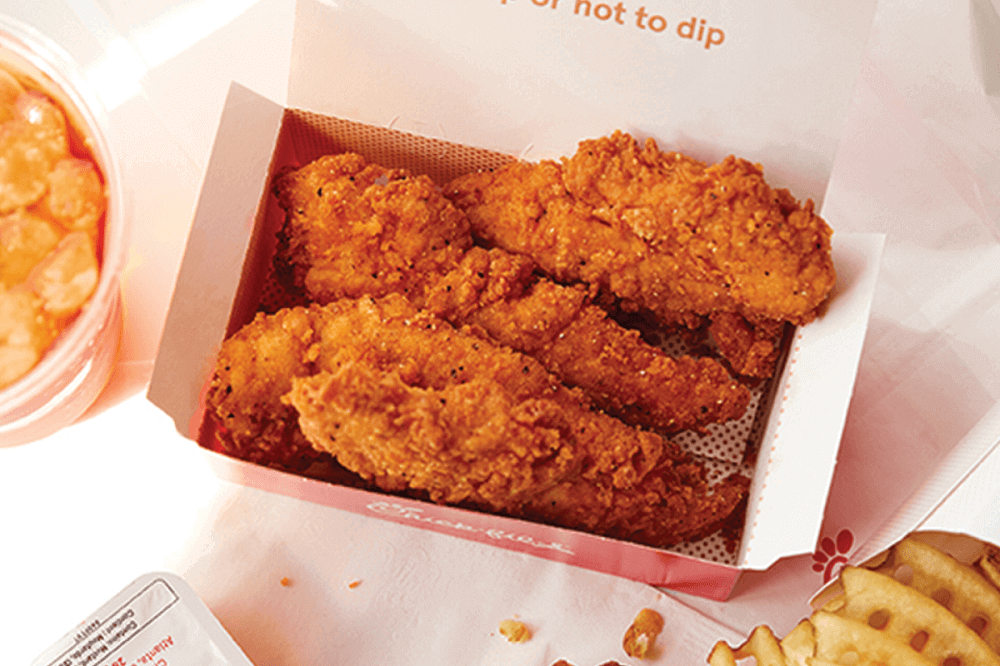 We also have an option if you are looking to turn up the heat. Our spicy menu items have been a huge hit with Canadians. So, we listened and now Canada is the first market to have the Spicy Chick-fil-A Chick-n-Strips® permanently available on the menu. They are hand-breaded just like our breaded Nuggets, only this time we also add our spicy blend of peppers — perfect for those who prefer an entrée that delivers some kick!

Another option is our Spicy Chicken Sandwich, which is seasoned with a spicy blend of peppers.
Awesome Sauce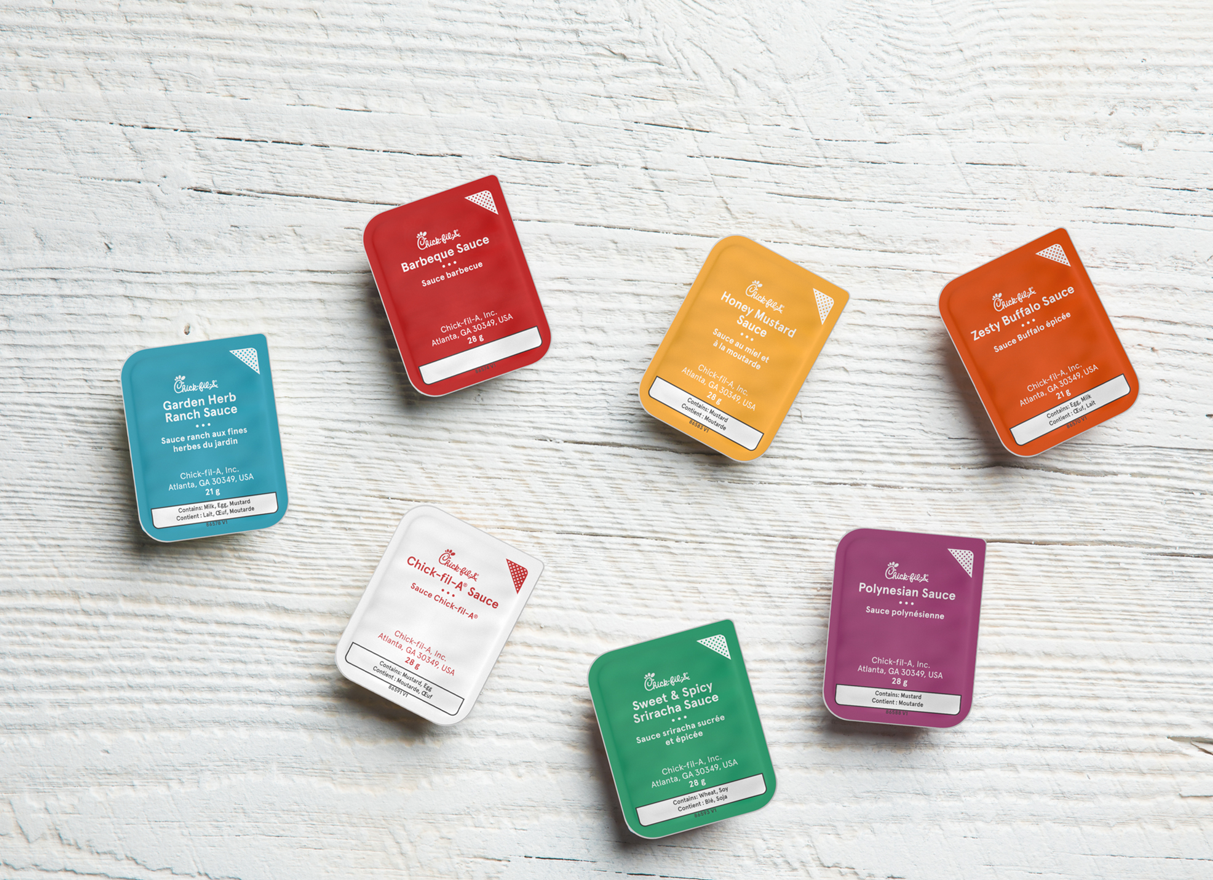 No matter what you order, make sure to try dipping them in our famous sauces. Sauces are included with every entrée, and there are seven tasty options – we've got something for everyone: Polynesian, Sweet & Spicy Sriracha, Zesty Buffalo, Honey Mustard, Garden Herb Ranch, Barbeque – and, last but not least, the classic choice, Chick-fil-A® Sauce. People find it hard to describe, but imagine notes of honey mustard with a smoky tang.
Chick-fil-A Waffle Potato Fries®
Nothing pairs better with our chicken than Chick-fil-A Waffle Potato Fries®.
Our skin-on Waffle Potato Fries™ are cooked in canola oil to give them a crisp bite, while they remain soft on the inside. They make for a tasty side or an excellent mid-afternoon snack.
Our famous Lemonade, Milkshakes and More. What to Drink at a Chick-fil-A Restaurant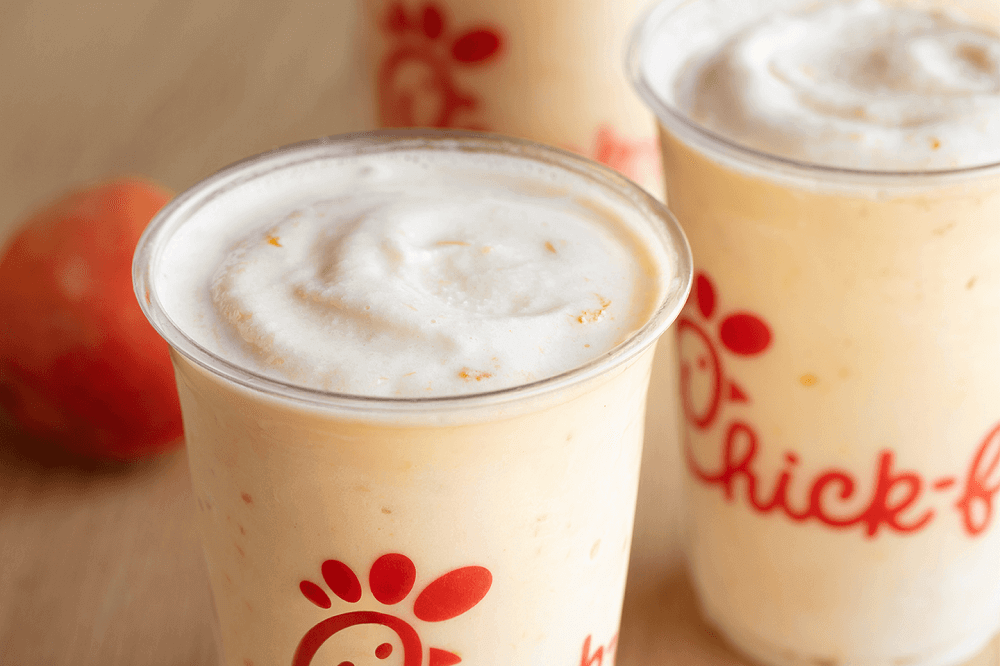 You have plenty of drink choices at Chick-fil-A restaurants — including soft drinks, milk and juice.

One beverage you should consider trying on your first visit? A classic Chick-fil-A® Lemonade. It's as simple and delicious as the rest of our menu, with just three ingredients: water, sugar, and real lemon juice — not from concentrate.

Another refreshing choice is our Freshly Brewed Iced Tea. Available sweetened and unsweetened, it's freshly made each day in-restaurant. For those times when you just can't decide, try a Sunjoy™ beverage, our deliciously thirst-quenching blend of half iced tea and half lemonade.

Or for a special treat, our creamy Milkshakes are hand-spun, and feature delicious Chick-fil-A Icedream™ dessert. When served at a Chick-fil-A restaurant, Milkshakes are topped off with whipped cream and one all-important cherry. Additions like the Peppermint Chip Milkshake or Peach Milkshake may also be available seasonally and for a limited time!
A seamless way to place your order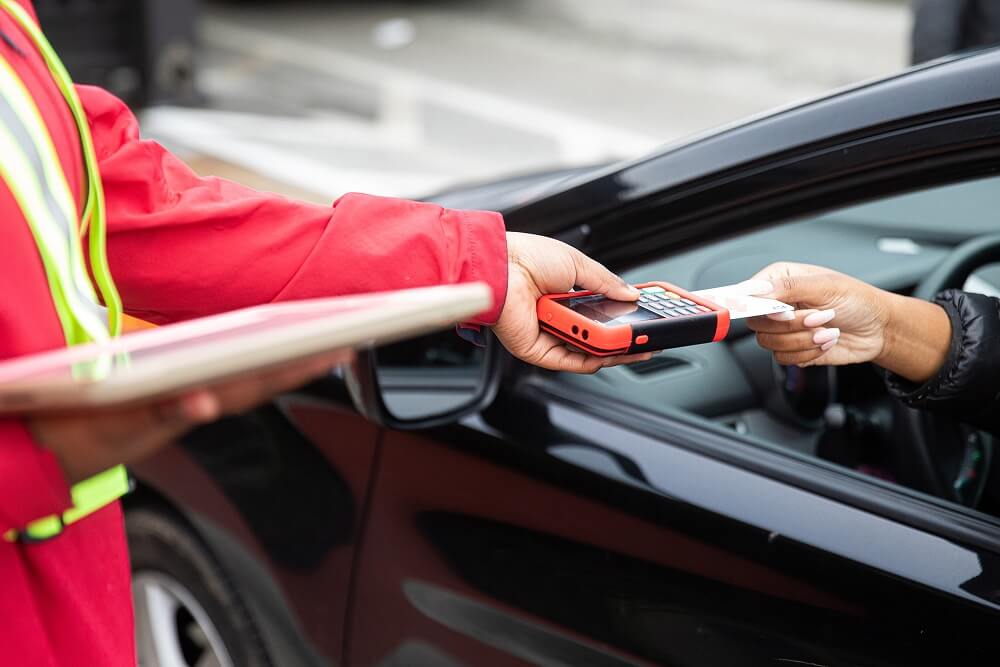 We're always thinking about ways we can help you make the most of your time. During peak hours, a Chick-fil-A Team Member may greet you and take your order on a tablet while you're in line, so your food will be ready for pick up after you reach the cashier counter. Depending on your location, you also may be able to enjoy delivery right to your door from select Chick-fil-A restaurants.

Now that you know what to expect – and what to eat – at a Chick-fil-A restaurant, we hope to see you soon!

Whatever you choose to eat, we hope you enjoy your meal. And it would be our pleasure to serve you.