How a high-school job became the mission of a lifetime: Introducing Canada's newest franchised Chick-fil-A restaurant Operator
When Jazmine Funes was 16 years old, she was called to face difficulties far beyond her years.

Her mother, who Jazmine calls "her hero," was working three jobs to provide for the family. Jazmine took on the responsibility of looking after her little sister and was determined to help her family financially. After applying for jobs all over her hometown of Fredericksburg, Virginia, a local Chick-fil-A® restaurant was the only business that called her back.

The power of mentorship

As Jazmine grew as a Team Member, she was inspired by the leadership of Paul Jany, the Operator at Chick-fil-A Southpoint in Fredericksburg, and wanted to learn more about his role.

Paul told her how being a Chick-fil-A Operator involves more than just running a business — it's about being a leader, having a positive impact on the local community and being a mentor to Team Members.

That resonated with Jazmine, and she shared with Paul that she wanted to be an Operator someday, too. Paul looked her in the eyes and said, "you will be."

"I was going through a very vulnerable time in my life, and for a boss to look at me and have that much faith in me? He'll never know the impact of that moment," Jazmine said.

That mentoring conversation was the first step in a journey that today is taking her to the role of a lifetime as the franchised Operator of the new Chick-fil-A location in Scarborough, Toronto.

The journey to Scarborough

Paul and other mentors helped Jazmine see the steps that would lead to her dream to become an Operator, from working through college at a Chick-fil-A restaurant with Operator Howe Rice to building her skills through the Chick-fil-A Leadership Development Program, which gives future leaders the chance to spend time at restaurants around the United States and Canada where they can learn at the side of experienced Operators.

This program led to a six-month stint in New York City, where Jazmine was energized by city living and meeting people from different backgrounds.

When Jazmine was afforded the opportunity to make Canada her new home, she was delighted to discover that it would be in Scarborough, another place where people of many backgrounds come together — offering plenty of opportunities to experience new cultures.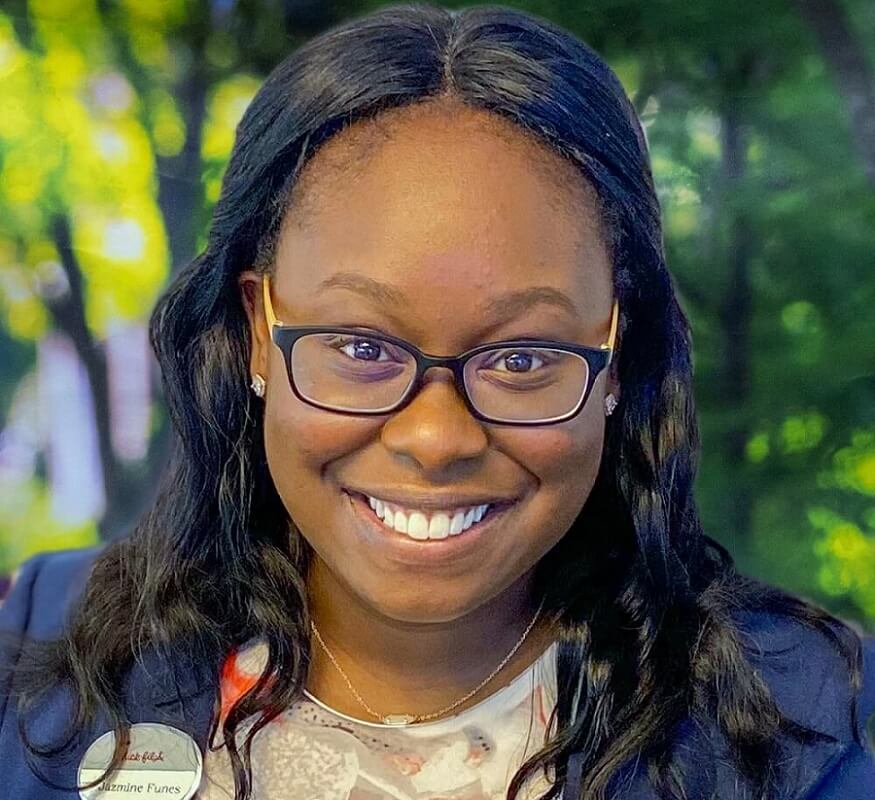 She has enjoyed settling in, just like she expected. "I have loved getting to know Scarborough and its unique mixture of urban and suburban life, the vibrant food scene and culture," Jazmine said. "I couldn't be happier to be living and working in a community that is so diverse, and I'm honoured to have the opportunity to share Chick-fil-A's great-tasting food and welcoming restaurant environment with the people of Scarborough."

Clearing the path

As an Operator, Jazmine wants to use this opportunity to develop and shape more leaders in the Scarborough community.

"If a Team Member comes to me and wants to learn more, I'm going to slow down and share," Jazmine said. "I'm passionate about young people, especially those who might not have a clear path or vision. I know what it's like to want somebody to take a chance on you and having a clear path forward could really change the course of someone's life."

A dream comes full circle

When Jazmine takes her place as the Operator of the new Chick-fil-A restaurant at the Scarborough Town Centre, she will bring along someone very important — her 16-year-old self.

During Jazmine's tenure with Operator Paul Jany, he celebrated Jazmine's hard work and dedication in her first Chick-fil-A job by putting his star Team Member's portrait on a plaque, which he hung proudly on a wall alongside other outstanding Team Members he worked with over the years.

When Paul heard that Jazmine had achieved her high school dream of becoming an Operator, he personally congratulated her. As an extra surprise, he gave her the same plaque that recognized her hard work and helped to inspire her future.

Now, with the full support of her husband, parents, family and friends, Jazmine can't wait to pass the same torch of inspiration to the next generation in Scarborough.