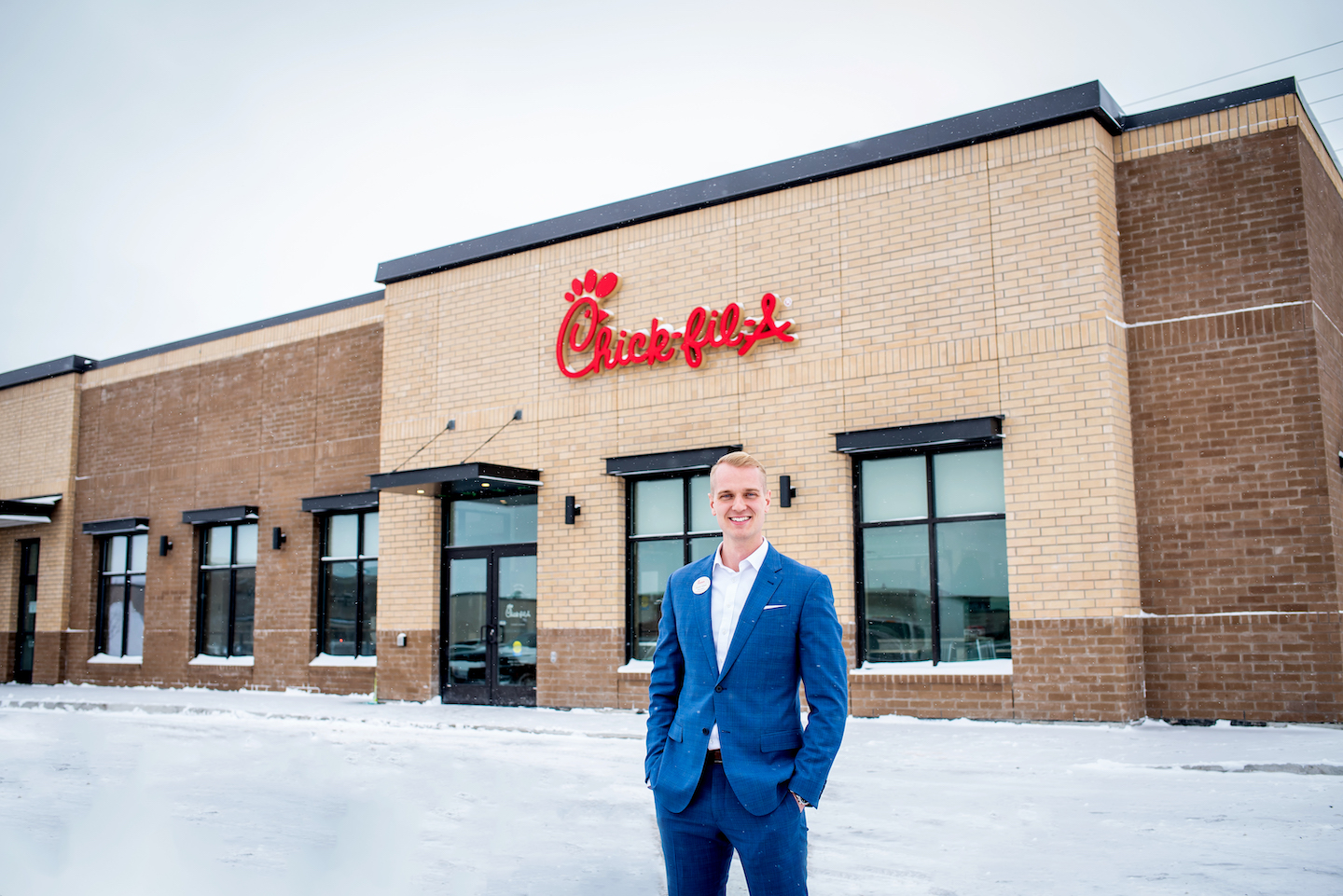 Chick-fil-A® Announces Eighth Restaurant Location in Canada to Open on Thursday, March 9 in Barrie, Ontario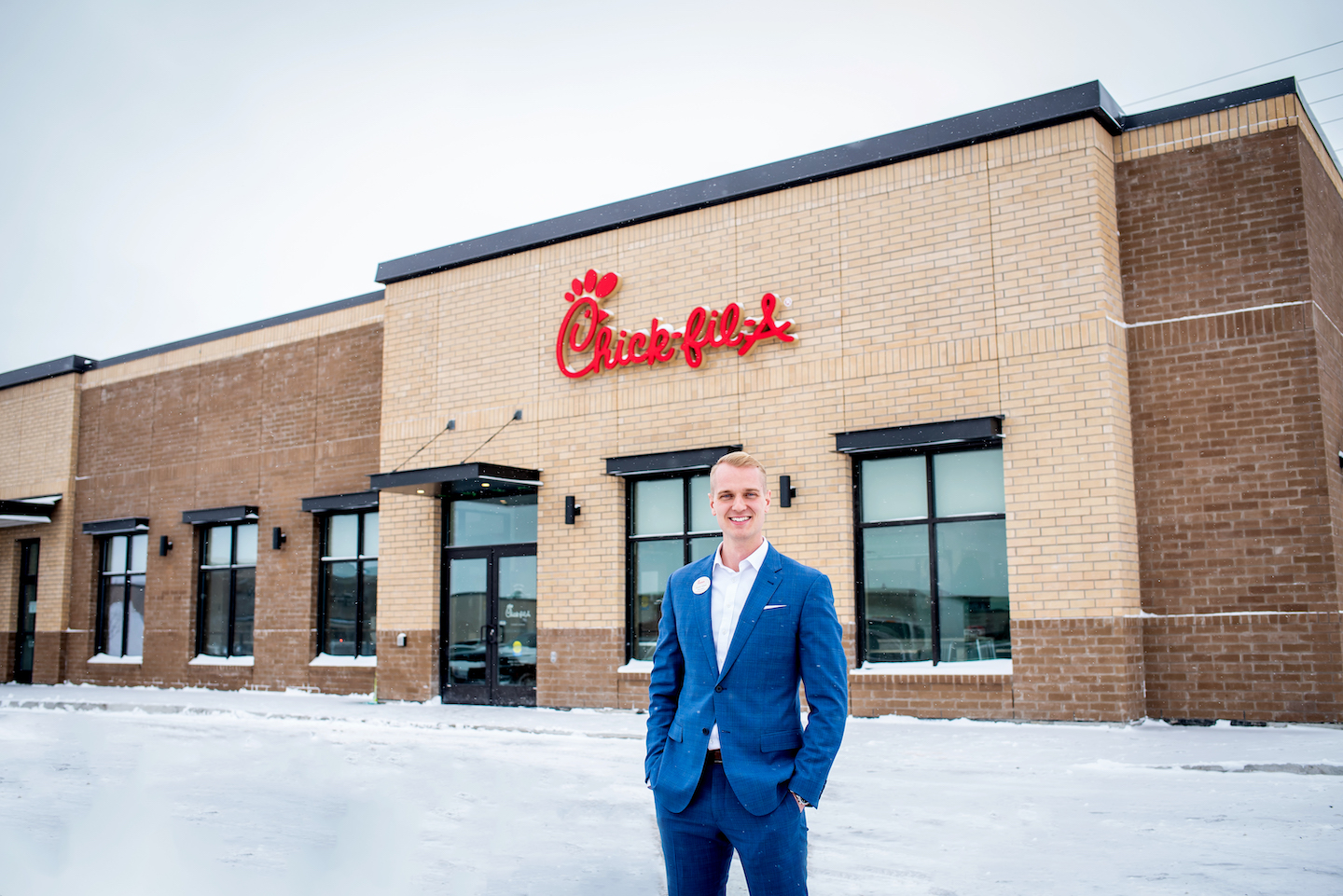 Restaurant will donate US$25,000 to Hockey Helps the Homeless as part of Chick-fil-A's commitment to the local community and will bring approximately 85-100 full- and part-time jobs to the area.
BARRIE, ON (MARCH 2, 2023) – A new Chick-fil-A® restaurant will begin serving the Barrie community on Thursday, March 9. Chick-fil-A, Inc. has selected British Columbia-born Lincoln Nikkel as the independent franchised Owner/Operator of Chick-fil-A® North Barrie.
Located on the Georgian Mall property at 447 Bayfield Street, Barrie, Chick-fil-A North Barrie will be open for dine in, drive-thru and pick-up from 10:30 a.m. to 10 p.m., Monday through Saturday.
Locally owned and operated
As full-time, hands-on leaders in their restaurants and communities, Chick-fil-A Owner/Operators proudly reside in the areas in which they serve.
In Barrie, Nikkel will be responsible for all day-to-day activities of the business, including employing approximately 85-100 full- and part-time Team Members, serving guests and cultivating relationships with local organizations and businesses.
Born in Langley, British Columbia, Nikkel joined Chick-fil-A after being connected with Chick-fil-A's international recruitment team, which led him to pursue the Chick-fil-A Leadership Development Program. Over the course of 24-months, Nikkel supported more than 10 Chick-fil-A restaurant openings across the greater Toronto area and in the United States, and learned the valuable skills needed to operate a restaurant. Nikkel is the first Canadian graduate from the program to have been selected as an Operator.
"Barrie is a community that truly supports one another," Nikkel said. "I am so grateful for the warm welcome, and through our restaurant, I look forward to showing that same intentionality that is at the heart of everything we do. I look forward to contributing to a growing city, serving our neighbours well and creating a culture of care through mentorship and genuine hospitality."
Quality ingredients; delicious food
Chick-fil-A restaurants focus on serving customers great-tasting food made with quality ingredients. Chick-fil-A restaurants serve chicken raised without antibiotics, in accordance with its stringent Animal Wellbeing Standards. Many items on the menu are hand-prepared daily and fresh produce is delivered up to six times per week. Learn more about Chick-fil-A's delicious menu here.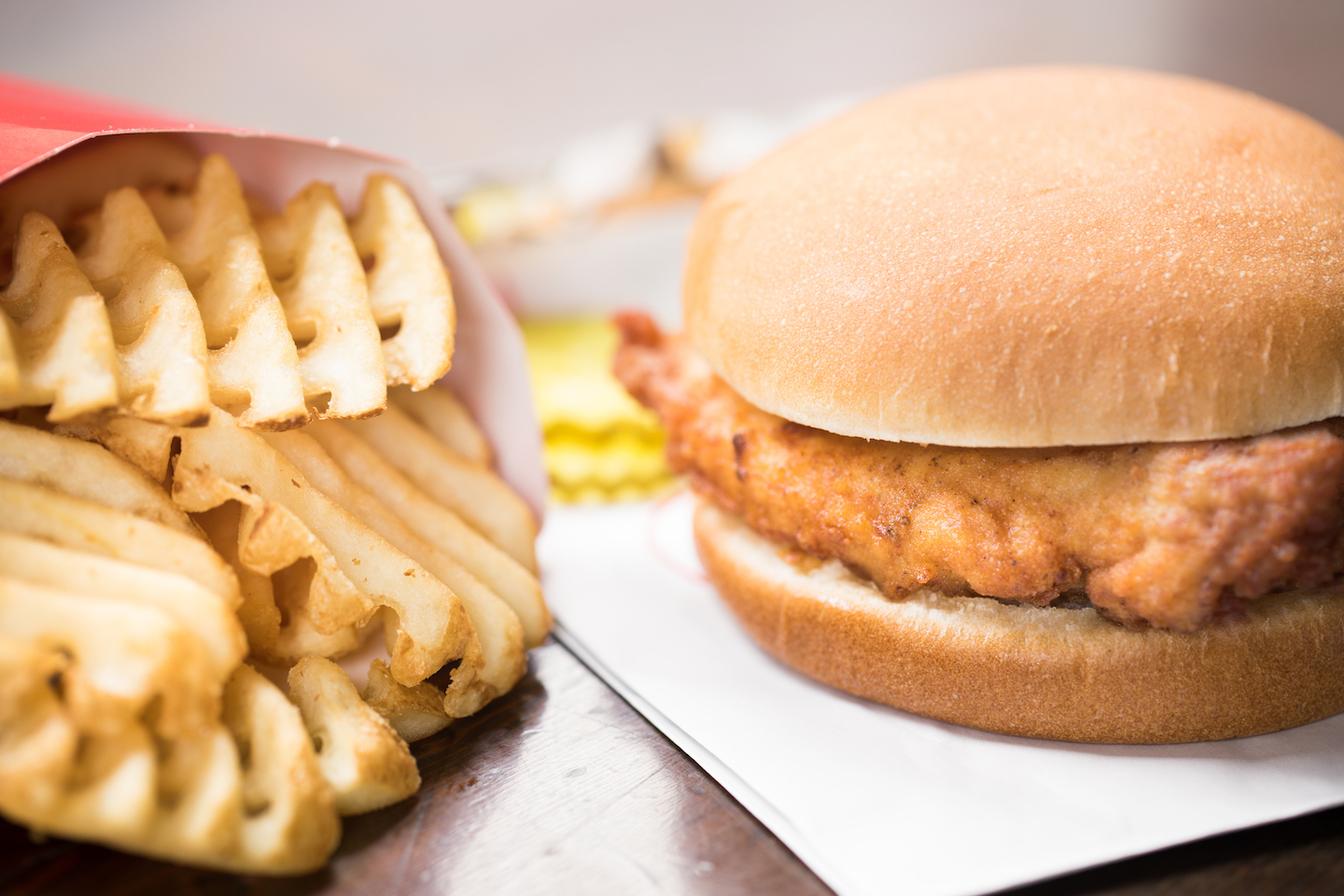 Drive-thru experience
Chick-fil-A restaurant Team Members will greet customers in the drive-thru line in-person and will take each guest's orders on a tablet. As the order-taker walks the line, another restaurant Team Member will come to the customer's car to take payment, allowing vehicles to move through more quickly than they do at a traditional speaker box drive-thru. To help ensure restaurant Team Members working in the drive-thru line are comfortable in any weather, Chick-fil-A partnered with clothing brands that design military-spec cooling vests and moisture-wicking uniforms for the summer and thermal options for the winter. Learn more about the drive-thru model here.
Impacting the local community
In honour of the new restaurant opening, Chick-fil-A donated US$25,000 to Hockey Helps the Homeless (HHTH), a non-profit hockey charity that partners and supports over 45 local homeless agencies across Canada and focuses on two categories: housing projects and support programs. Through the HHTH chapter in Barrie, 100 per cent of net proceeds will stay local and support Redwood Park Communities and Busby Centre.
"At Hockey Helps the Homeless, we believe everyone should have a safe place to call home and we're always thrilled when there are opportunities to work with partners who share the same passion," said Dave McCullough, Committee Chair of Hockey Helps the Homeless, Barrie Chapter. "Having heard Lincoln's history with the sport and enthusiasm for giving back to the community, we are excited by the partnership. We look forward to working with a fellow hockey-lover to help ensure our community's most vulnerable have a fighting chance."
Nikkel's restaurant will also be participating in Chick-fil-A Shared Table™, an initiative that redirects surplus food from the restaurant to local soup kitchens, shelters, food banks and non-profits in need. Chick-fil-A North Barrie will do its part to reduce food waste in its kitchen with a "cook less, more often" approach, reducing the amount of food that goes unserved. When there is surplus food, Chick-fil-A North Barrie will donate it to Busby Centre. To date, more than 17 million meals have been served from Chick-fil-A Shared Table donations.
Team Member investment
Chick-fil-A franchised Operators strive to hire, develop and retain top talent, while providing a great work environment for people of all ages and backgrounds. From opportunities for hands-on training and mentoring, competitive pay and benefits, and the chance to apply for scholarships to support continued education, Operators are committed to preparing their team for the future, wherever it may lead. To learn more about careers at Chick-fil-A, click here.
For the latest news and updates on Chick-fil-A North Barrie, follow along on Instagram. For more information about Chick-fil-A and stories about the Brand's food, people and customers, visit chick-fil-a.ca and follow us on Facebook and Instagram.
About Chick-fil-A, Inc.
Atlanta-based Chick-fil-A, Inc. is a restaurant company known for the Original Chick-fil-A® Chicken Sandwich and signature hospitality. Represented by more than 190,000 Team Members, Operators and Staff, Chick-fil-A® restaurants serve guests freshly prepared food at more than 2,800 restaurants in the United States, Puerto Rico and Canada. The family-owned and privately held restaurant company was founded in 1967 by S. Truett Cathy and is committed to serving the local communities in which its franchised restaurants operate.

Known for its leadership and growth opportunities, in 2022 Chick-fil-A was named a Best Employer in America by Forbes and a top company for career opportunities for Black employees by Glassdoor. The company was also awarded the Employee's Choice by Glassdoor honoring top CEOs and was named a Culture 500 Culture Champion in 2020. A leader in customer service, Chick-fil-A was named QSR magazine's Drive-Thru Restaurant of the Year in 2021. More information on Chick-fil-A is available at www.chick-fil-a.ca and @ChickfilANews.