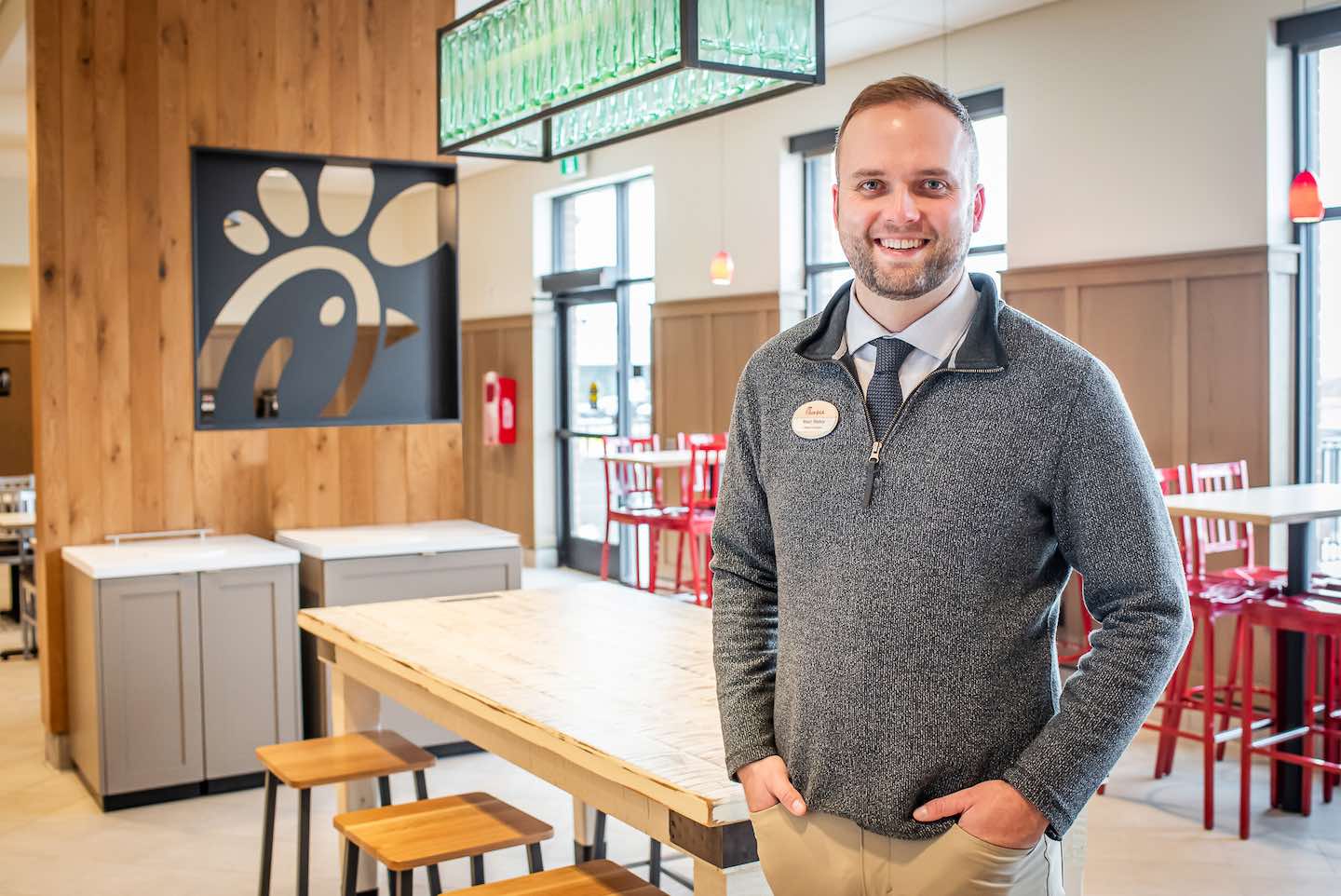 Chick-fil-A announces new restaurant to open on November 16 in Oshawa, Ontario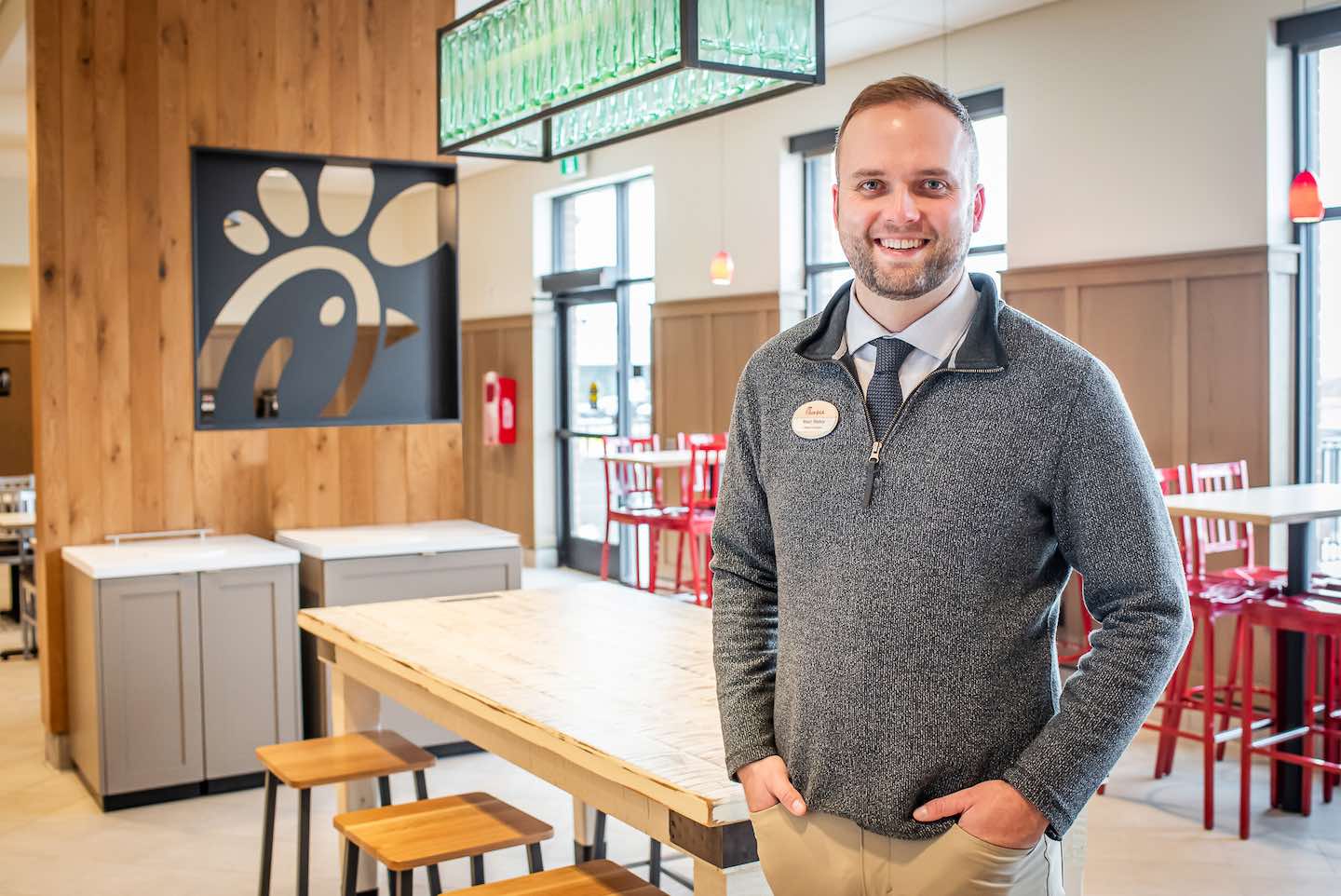 In celebration of the restaurant, Chick-fil-A will donate US$25,000 to Second Harvest to support local hunger relief and will bring approximately 100 full- and part-time jobs to the area 
TORONTO, ON (NOVEMBER 13, 2023) – A new Chick-fil-A® restaurant will begin serving the Oshawa community on Thursday, November 16. Chick-fil-A has selected local resident Matt Bizley as the independent franchised Owner-Operator of Chick-fil-A North Oshawa.

Located at 1330 Clearbrook Drive, Oshawa, Chick-fil-A North Oshawa will be open for dine-in, drive-thru and pick-up from 10:30 a.m. to 9:00 p.m., Monday through Saturday.

Locally owned and operated

As full-time, hands-on leaders in their restaurants and communities, local Chick-fil-A Owner-Operators proudly reside in the areas in which they serve.

In Oshawa, Bizley will be responsible for all day-to-day activities of the business, including employing approximately 100 full- and part-time Team Members, serving guests and cultivating relationships with local organizations and businesses.

Bizley was born in Sault Ste. Marie and has lived in Oshawa for the past 15 years, where he built a strong interest in caring for his community. He earned a bachelor's degree in economics from McMaster University and an MBA from Carleton University, where he cultivated his leadership and critical thinking skills. Bizley then managed multiple locations of an international café chain. He is now excited to bring the Chick-fil-A brand to his hometown and establish deeper connections within the city through care, employment opportunities and great hospitality.

"I am excited to be able to give back to my community by providing quality food and impactful employment opportunities," said Bizley. "Growing up in Oshawa, I believe in supporting the area in ways that are nurturing for the community and the people in it. My goal for this restaurant is to be a pillar of growth and to be the most gracious business in Oshawa."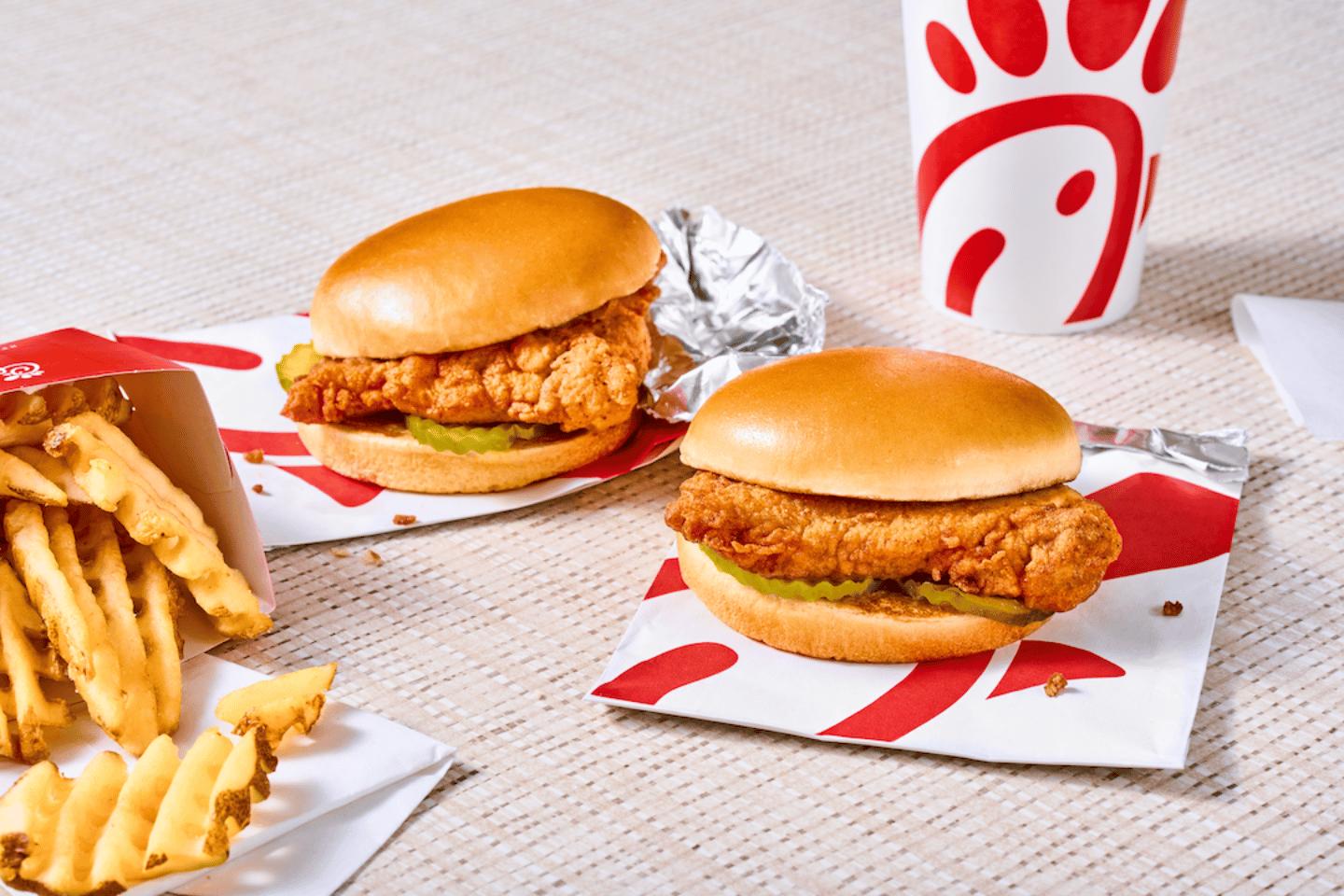 Quality ingredients, delicious food

Chick-fil-A restaurants focus on serving customers great-tasting food made with quality ingredients. Many items on the menu are hand-prepared daily and most of our produce is delivered fresh up to six times per week. Learn more about Chick-fil-A's delicious menu here.
A festive seasonal favourite returns

As the holiday season nears, fans of the Chick-fil-A Peppermint Chip Milkshake can rejoice the return of the festive favourite. Peppermint lovers will be pleased to learn that the peppermint flavour can be added to Chick-fil-A Frosted Coffee and Iced Coffee to create the Frosted Peppermint Chip Coffee and Peppermint Iced Coffee. The seasonal shake will be available at Chick-fil-A North Oshawa and all other Chick-fil-A restaurants in Canada through the holidays, while supplies last.

Impacting the community

Since 2020, Chick-fil-A has donated more than US$1 million to Second Harvest to support local hunger relief organizations. Second Harvest is Canada's largest food rescue organization and helps reduce the environmental impact of food waste by redistributing surplus edible food from across the supply chain to non-profits throughout the country. In celebration of the opening, Chick-fil-A will donate US$25,000 to Second Harvest to support local non-profit organizations in the community in the fight against hunger.

Bizley's restaurant will also participate in the Chick-fil-A Shared Table™ program, an initiative that redirects surplus food from the participating Chick-fil-A restaurants to local soup kitchens, shelters, food banks and non-profits to help feed those in need. Chick-fil-A North Oshawa will do its part to reduce food waste in its kitchen with a "cook less, more often" approach, reducing the amount of food that goes unserved. When there is surplus food, Chick-fil-A North Oshawa will donate it to a local non-profit organization whenever possible.

To date, more than 23 million meals have been created using Chick-fil-A Shared Table donations from 2,000 Chick-fil-A restaurants throughout the U.S. and Canada.

"Oshawa has been home for almost two decades, and I am so passionate about giving back to a community that means so much to me," said Bizley. "By participating in the Chick-fil-A Shared Table Program, we have an impactful opportunity ahead to address food insecurity and show care to those in need."

Team Member investment

Most Chick-fil-A restaurants are individually owned and operated by an independent franchised Operator. Those Chick-fil-A franchised Operators strive to hire, develop and retain top talent, while providing a great work environment for people of all ages and backgrounds. They also often offer their Team Members opportunities for hands-on training and mentoring, competitive pay and benefits, and the chance to apply for scholarships to support continued education. Chick-fil-A Operators are committed to preparing their team for the future, wherever it may lead. To learn more about careers at Chick-fil-A restaurants, click here.
Our growth in Canada

Chick-fil-A is excited to continue its long-term investment in Canada, growing to a total of 20 stores by 2025, with plans to open seven to ten restaurants per year thereafter. A new restaurant is under construction in London, with construction expected to begin soon in Orillia, along with plans to expand to Ottawa and Alberta starting in 2024.

We are seeking franchise candidates in Canada with an entrepreneurial spirit and a CEO mindset, who are passionate about serving great food and providing exceptional hospitality in a fast-paced environment. Chick-fil-A franchisees are independent Owners-Operators who run complex, Chick-fil-A branded restaurant businesses with integrity and stewardship. Learn more about franchising opportunities by visiting our Franchising page.
For the latest news and updates on Chick-fil-A North Oshawa, follow along on Instagram. For more information about Chick-fil-A and stories about the Brand's food, people and customers, visit chick-fil-a.ca and follow us on Facebook and Instagram.

About Chick-fil-A, Inc.

Atlanta-based Chick-fil-A, Inc. is a restaurant company known for the Original Chick-fil-A® Chicken Sandwich and signature hospitality. Represented by more than 190,000 Team Members, Operators and Staff, Chick-fil-A® restaurants serve guests freshly prepared food at more than 3,000 restaurants in 48 states, Washington, D.C., Puerto Rico and Canada. The family-owned and privately held restaurant company was founded in 1967 by S. Truett Cathy and is committed to serving the local communities in which its franchised restaurants operate.

Known for its leadership and growth opportunities, in 2022 Chick-fil-A was named a Best Employer in America by Forbes and a top company for career opportunities for Black employees by Glassdoor. A leader in customer service, Chick-fil-A was named QSR Magazine's Drive-Thru Restaurant of the Year for 2021. More information on Chick-fil-A is available at www.chick-fil-a.ca and @ChickfilANews.
###
Contact: Media Hotline: (800) 404-7196
Email: cfapressroom@chick-fil-a.com
Twitter: @ChickfilANews