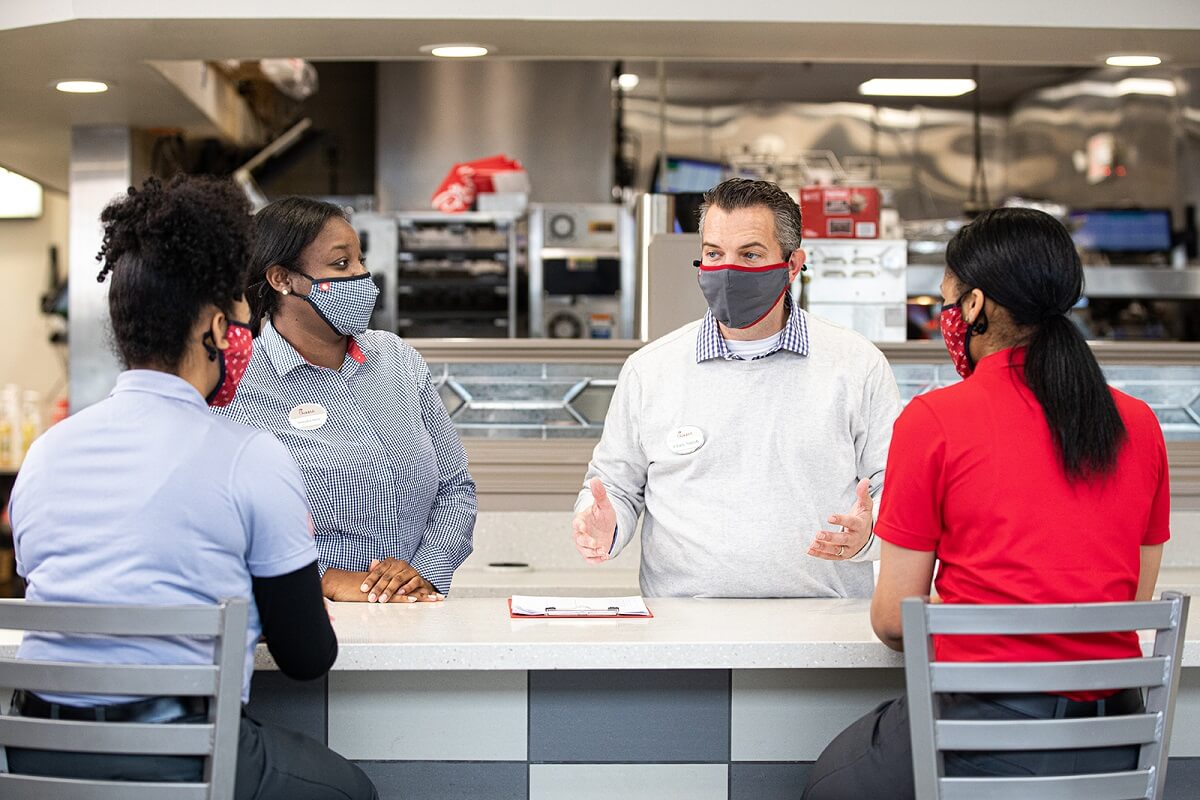 Chick-fil-A's values and company culture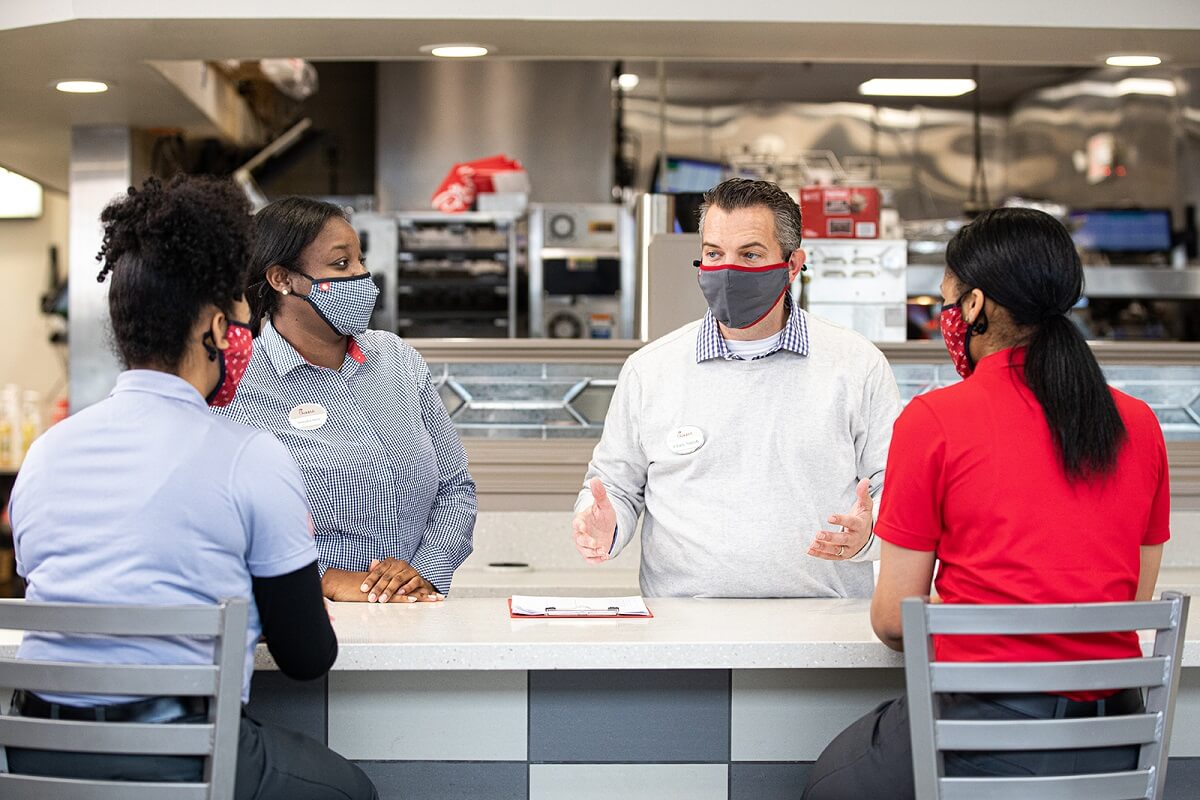 As a company, Chick-fil-A is committed to a workplace culture where everyone is treated with honour, dignity and respect. We work hard to ensure that our business practices support this goal by creating a culture of care based on these principles.

We're here to serve. We keep the needs of our franchised Owner/Operators, their Team Members, and our customers at the heart of our work, doing what is best for the business and best for them.
We're better together. It's through teamwork and collaboration that we do our best work. We're an inclusive culture that leverages the strengths of our diverse talent to innovate and maximize our care for Operators, their Team Members and customers.
We are purpose driven. We connect our work and daily activities to our business strategy, and support each other's efforts to be good stewards who create a positive impact on all who come in contact with Chick-fil-A.
We pursue what's next. We find energy in adapting and re-inventing how we do things; from the way we work to how we care for others.
Why is community outreach so important to Chick-fil-A?

Having grown up during the Great Depression, our founder S. Truett Cathy understood the importance of family and community all while grasping the art of entrepreneurship at an early age. He built our brand on a core set of principles that ensure we pursue more than profit.

It's also why our restaurants partner with local nonprofits to serve the people in our communities who need help most. As Truett Cathy always maintained – we aren't in the chicken business, but the people business.

Leading locally. Chick-fil-A® Operators are full-time, hands-on leaders in their restaurants and in their communities. Ultimately, as independent business owners, Operators choose how and when they want to give back — supporting causes that are most meaningful to them, their customers and their communities.
Giving Back. For every new restaurant opening in Canada, Chick-fil-A, Inc. will donate US$25,000 to a local community partner located near the new Chick-fil-A restaurant.

Community grants. Through our annual Chick-fil-A True Inspiration Awards™ grants, Operators have the opportunity to nominate local nonprofits to receive a grant ranging from US$50,000 to US$350,000. With Operator help, we've been able to award more than US$12 million to 171 organizations across the U.S. and in Canada through this program. Read about the first Canadian organization to receive a True Inspiration Awards grant.

Helping fight hunger. For millions of people, a nourishing meal is a critical need. That's why we created the Chick-fil-A Shared Table™ program, an initiative to help restaurant Operators fight hunger in their local communities. Today, more than 1,200 Chick-fil-A restaurants throughout North America donate surplus food to local soup kitchens, shelters and nonprofits through the Chick-fil-A Shared Table program, and that number continues to grow each year. Read more about the Chick-fil-A Shared Table program here.
Why is Chick-fil-A closed on Sundays?

Our founder, Truett Cathy, made the decision to close on Sundays in 1946 when he opened his first restaurant in Hapeville, Georgia. Having worked seven days a week in restaurants, Truett saw the importance of closing on Sundays so that he and his employees could set aside one day to rest, spend time with family, and worship if they choose - a practice we uphold today.

What are some of the perks of working at Chick-fil-A?

Becoming a Chick-fil-A Team Member means much more than easy access to our Chicken Sandwich and other delicious menu items!

We believe in investing in Chick-fil-A Team Members and their futures, from offering opportunities to learn leadership and management skills to supporting fulfilling careers. Read more here about the perks of working at Chick-fil-A.

Scholarships are another way we invest in Team Members' dreams. Our Remarkable Futures™ Scholarships initiative started small — Scholarships at Chick-fil-A began when Truett Cathy set a mayonnaise jar on his first restaurant counter to help Team Member Eddie White pursue his dream of a college education. Through contributions from customers and Truett himself, Eddie's dream came true.

Since 1973, Chick-fil-A's Remarkable Futures Scholarships have helped more than 66,000 Team Members achieve their remarkable futures through a total investment of US$110 million in scholarships. Meet a few of our 2021 Canadian Team Member scholarship recipients.