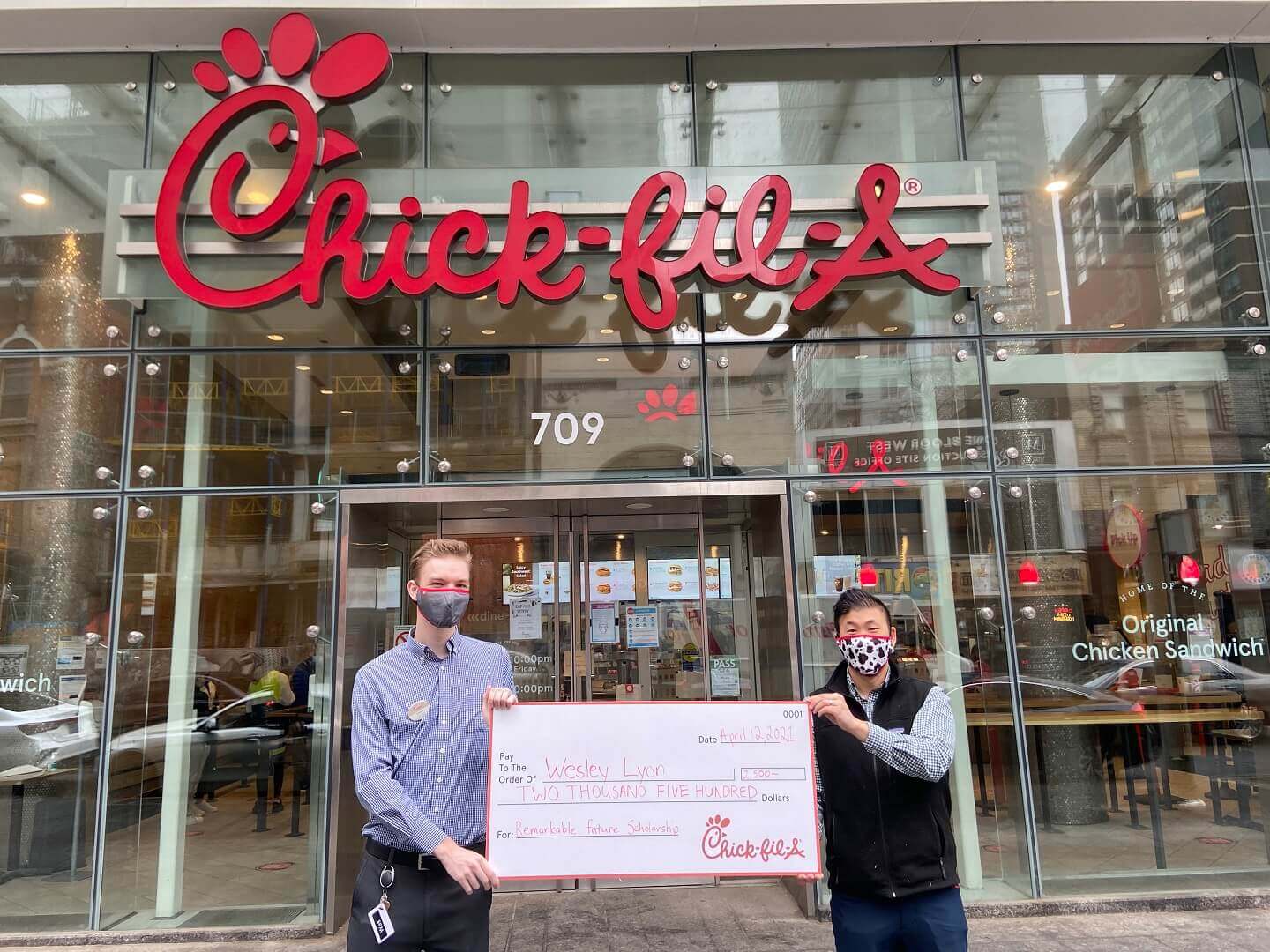 A lesson in resilience: Meet this year's Canadian recipients of a Chick-fil-A Remarkable Futures Scholarship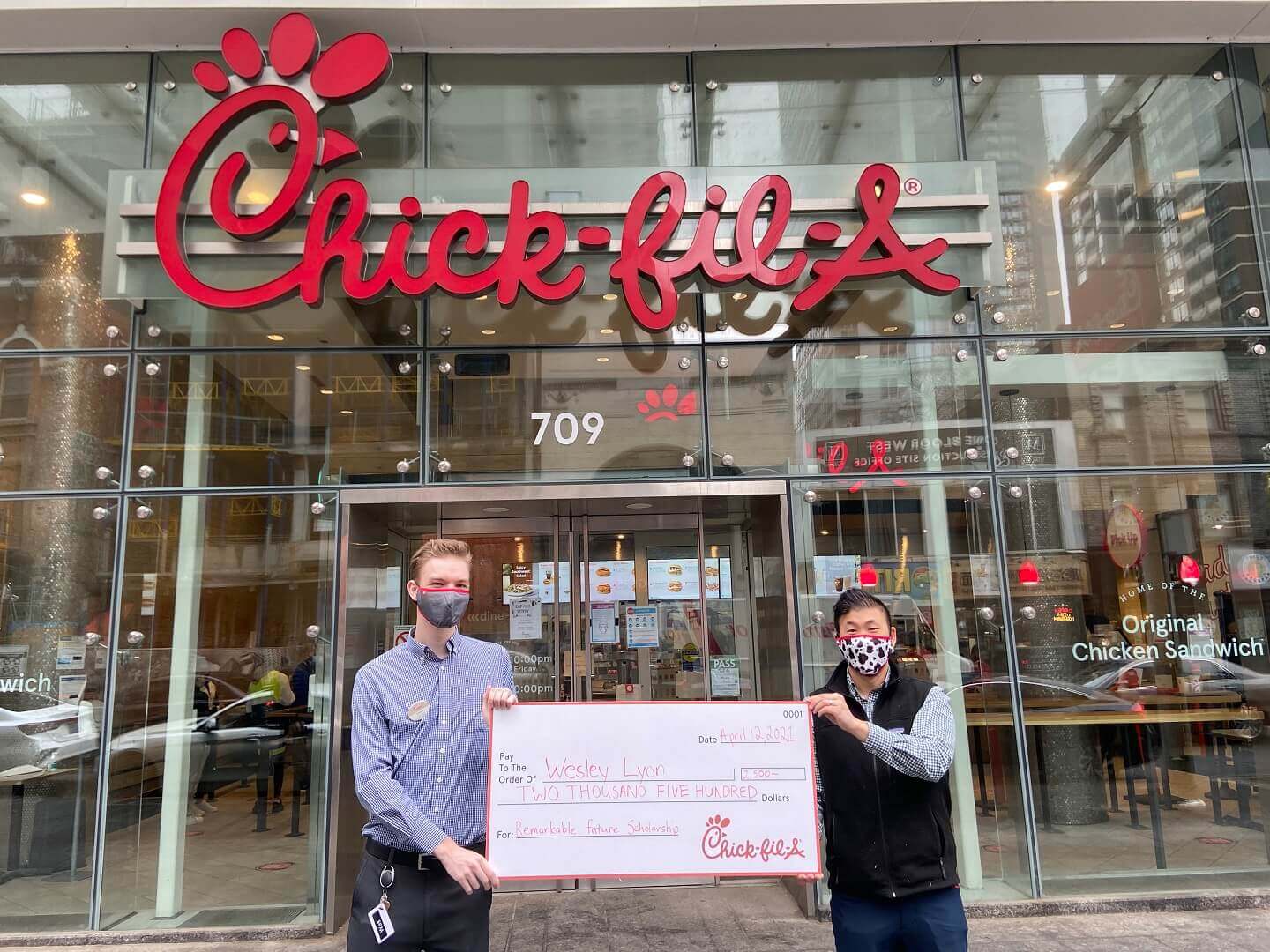 Since the pandemic started, life has been challenging for many of us. Chick-fil-A® Team Members Rodrigo, Luvena, Wesley and Joshua show us what it means to persevere.
In addition to pandemic-related challenges, they've been managing their studies and working, while also showing exceptional leadership within their communities. Whether it's supporting their families, helping fellow students or engaging in volunteer work, in their own unique way, they each go above and beyond to help those around them.

For this and other outstanding contributions, these four Chick-fil-A Team Members from Toronto's Chick-fil-A Yonge & Bloor location, all received a 2021 Remarkable Futures Scholarship. Read on to see what makes these students so special and such an important part of our team.


Rodrigo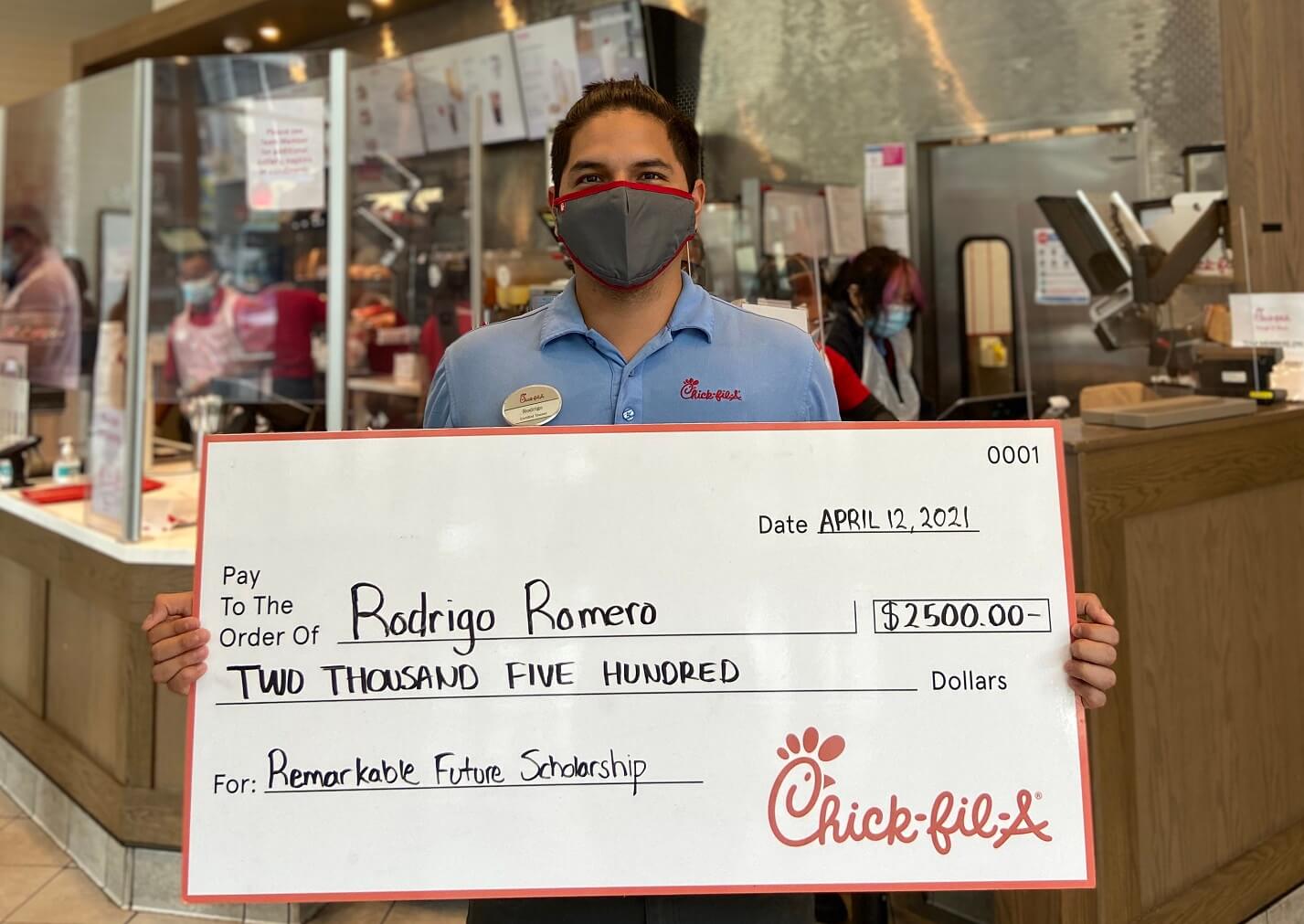 Studies: Computer system technology
How he's a team player at Chick-fil-A Yonge & Bloor: Working at the Yonge & Bloor location since its Grand Opening, he's known for his positive attitude and his commitment to personal growth. He recently became a Certified Trainer after approaching his manager to take on more responsibility.
His biggest challenge? As an international student from Peru, financial concerns are top of mind. This scholarship will help cover some of his tuition fees.
What does he do outside of work? "I always try to help others, even if it's with the little things."
Future plans? As a new resident of Toronto his goal is to find his feet and settle permanently in the city.


Luvena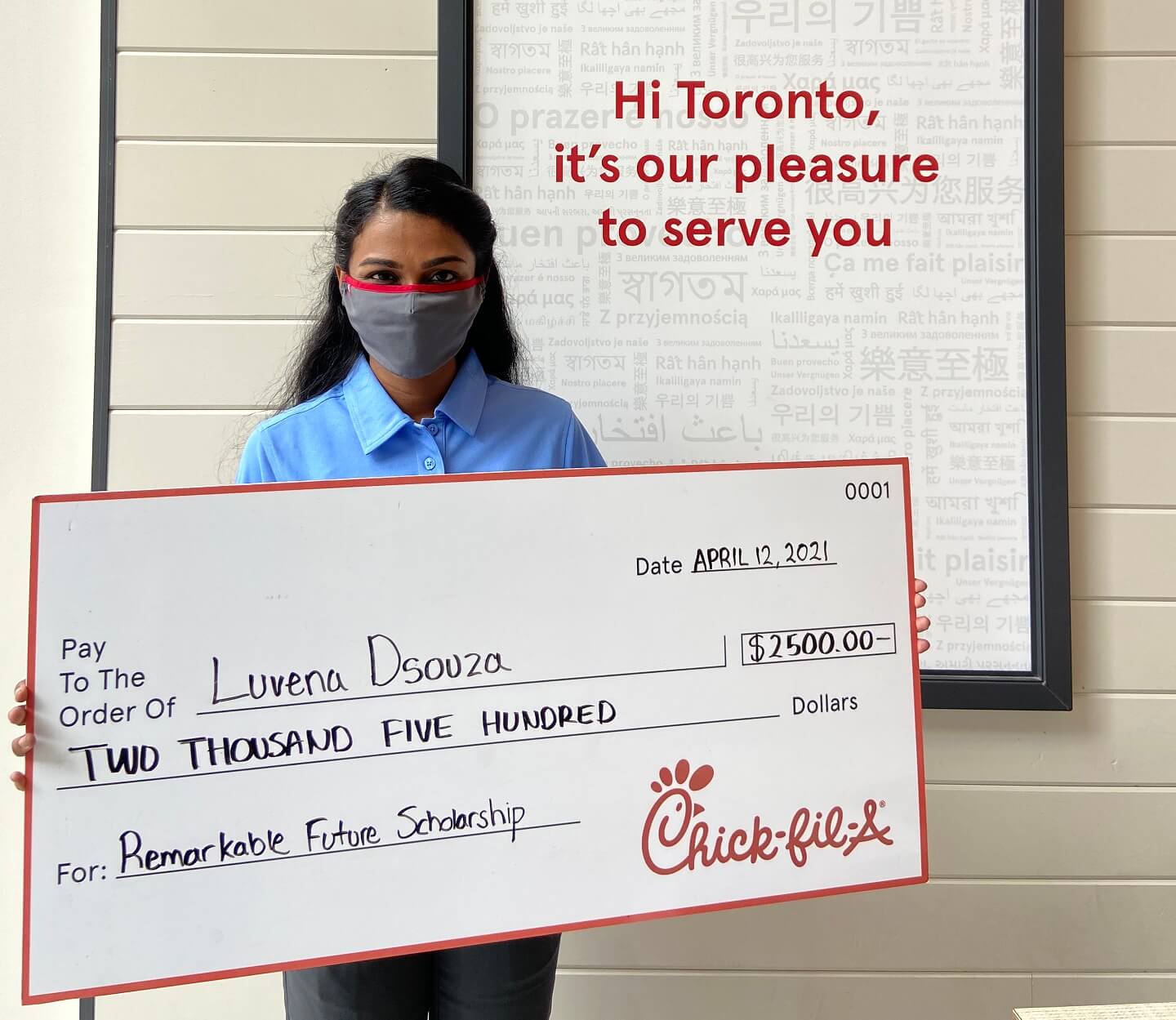 Studies: Brand management
How she's a team player at Chick-fil-A Yonge & Bloor: She achieves results while still maintaining positive relationships with those around her. No matter the difficulty of the task at hand, she's always kind to others.
Her biggest challenge? Balancing her international student expenses, while also saving money so that she can help her family back home in India whenever possible.
What does she do outside of work? Luvena loves studying, especially marketing. She says was attracted to the field because it's so dynamic and creative.
Future plans? When she graduates, she would like to transition into a marketing role with Chick-fil-A Yonge & Bloor where she can begin putting her new knowledge to great use.


Wesley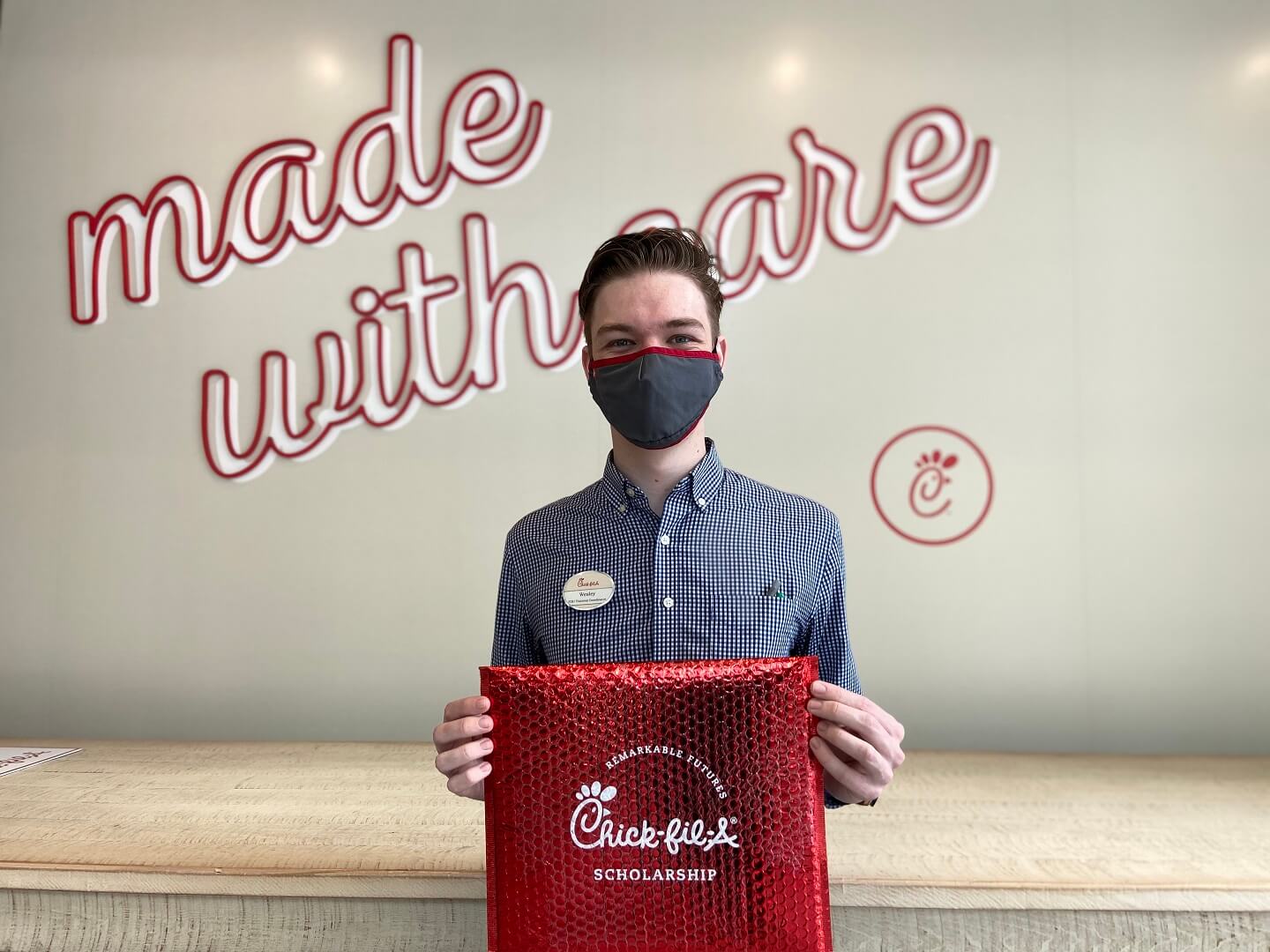 Studies: Economics and Spanish. He's in the top five per cent of his class!
How he's a team player at Chick-fil-A Yonge & Bloor: He created a computer program that automatically generates each employee's weekly roster, a process previously handwritten by a manager (taking up much time and energy).
His biggest challenge? After his parent's divorce, he had to start working 30+ hours each week on top of his full-time studies.
What does he do outside of work? He has tutored his roommate in economics and helped classmates with programming-related questions.
Future plans? After graduation, he'd like to get his PhD in economics focusing on how inequality affects performance in school. "I think a lot of people take for granted being able to attend school without working a full-time job."


Joshua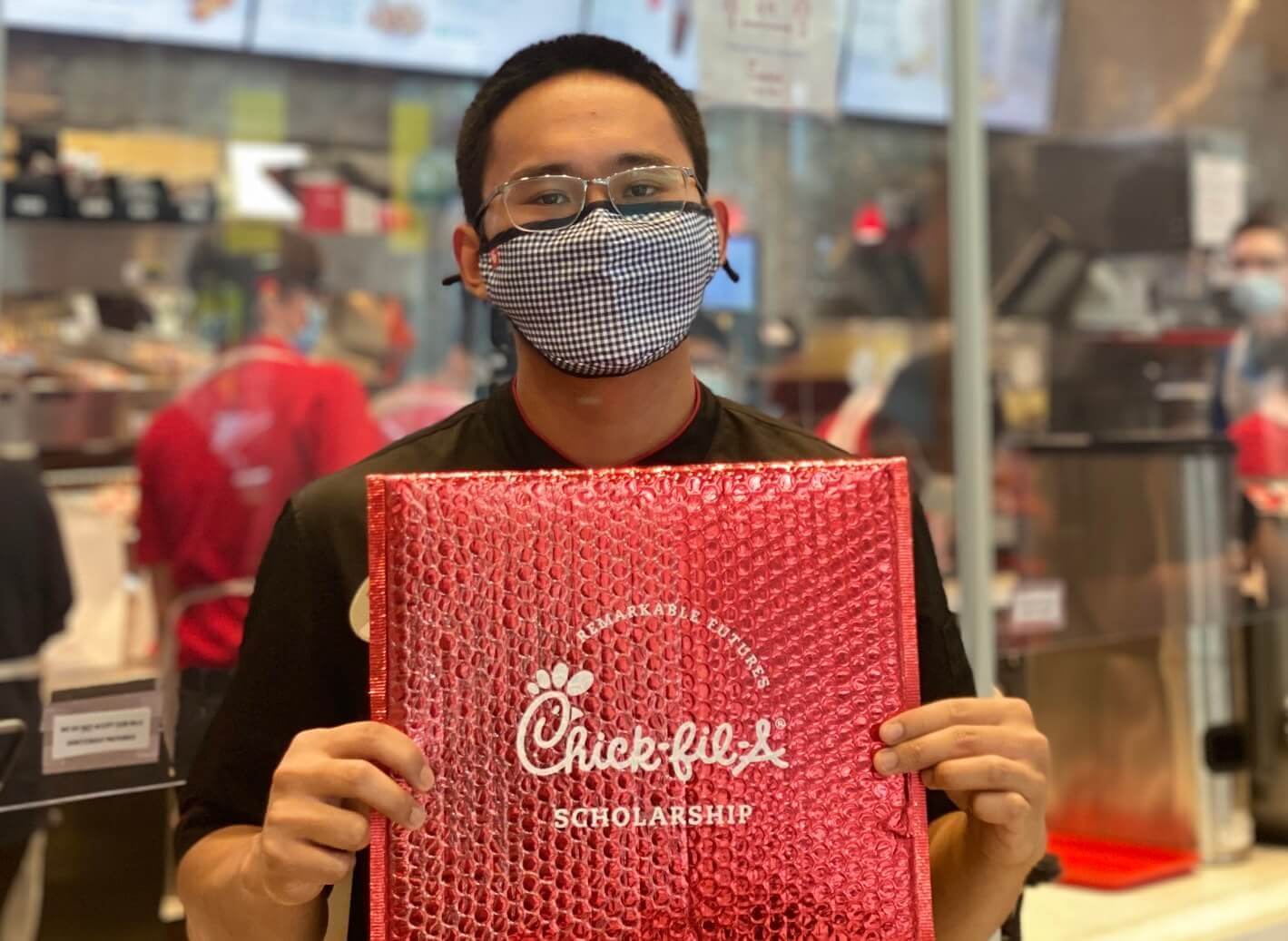 Studies: Nursing
How he's a team player at Chick-fil-A Yonge & Bloor: He's a very hard worker and is always looking for ways to improve the business.
His biggest challenge? Finding a way to balance his studies, his work and the many expenses that come with being a student — like tuition, textbooks and travel costs.
What does he do outside of work? Recently, he helped his mother with daily activities while she was recovering from surgery.
Future plans? He would like to give back by becoming a clinical instructor for nursing students, so he can help shape the next generation: "I want to be able to guide students and assist them in becoming confident in themselves and their skills."

Chick-fil-A knows that Team Members like these are at the heart of everything we do. Scholarships at Chick-fil-A began when founder S. Truett Cathy set an empty mayonnaise jar on his restaurant counter to start a college fund for Team Member Eddie White. Since 1970, Chick-fil-A has invested more than $112 million in scholarships to help over 67,000 Team Members. Today, the Remarkable Futures Scholarships support part- and full-time Team Members in any area of study at any accredited institution. There's also no minimum length of service or minimum hours required to apply for the program.

This scholarship is just one way Chick-fil-A shows its commitment to helping Chick-fil-A restaurant employees reach greater opportunities in their lives — whether that's with the company or in a different career path. We'll be watching these four students in their future endeavours and as they each realize their incredible potential. We're all cheering them on!

For more information about the scholarships, or to apply for next year's program, visit Chick-fil-a.com/Scholarships.